Why DERMA E Vitamin C?
Dermatologist Recommended. Clinically Proven.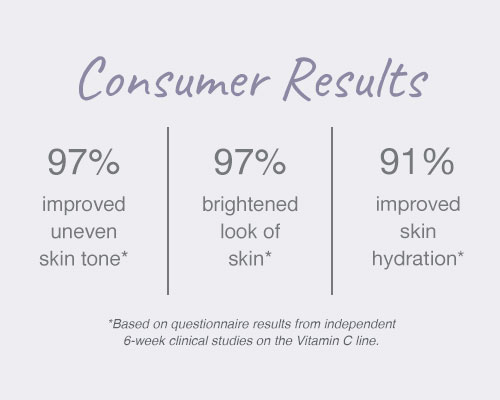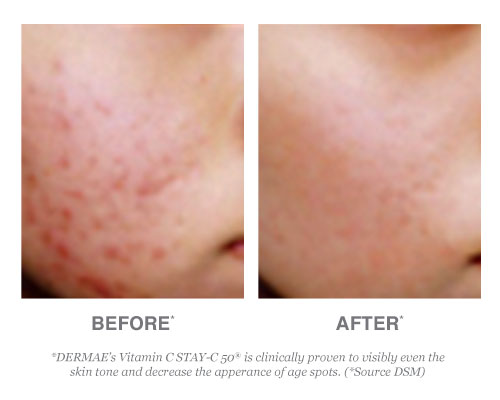 What's in it?
Safe. Effective. Non-Toxic.
Vitamin C Stay-C® 50
Non-oxidizing Vitamin C has highly effective antioxidant, skin-brightening and antiaging properties while also helping to support collagen health, improving the appearance of sun damaged skin.
What's Not in it?
100% vegan. Cruelty-Free. GMO-Free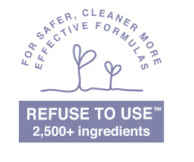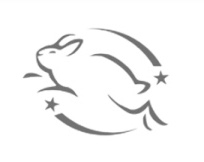 The DERMA E "Refuse to Use ™ List" is a comprehensive list of over 2,500 common ingredients that have actually been found to be toxic to both people and the environment. DERMA E has been building this list of ingredients to ban in their products since their inception in 1984.
This extensive list includes familiar ingredients like:
parabens
sulfates
formaldehyde donors
animal ingredients
synthetics fragrances
Vitamin C Duo FAQs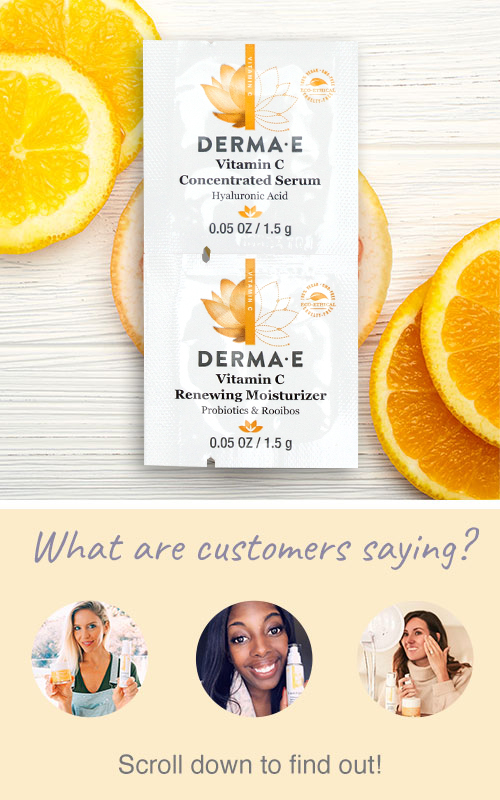 Q: What percentage of Vitamin C is in this formulas?
A: We use a 5% level of Vitamin C that is safe, effective and 100% stable so that it doesn't degrade upon absorption into the skin.
Q: Are these products safe for darker skin tones?
A: Yes, Vitamin C is highly effective for hyperpigmentation and great for all skin types and tones. It works to brighten and even out the skin tone.
Q: Do these work for oily acne prone skin or would it let me to break out?
A: This will work for oily prone skin and will also help to reduce breakouts given the other ingredients like probiotics which helps boost the skin's immunity.
Q: Are these products safe for sensitive skin?
A: Yes they are and they will be both safe and effective.
Q: Are these products safe for pregnant and/or nursing mothers?
A: Yes, our Vitamin C is safe. Although we also suggest if you may want to check in with your physician as well.
Vitamin C Duo Reviews
Top Rated. Influencer Approved.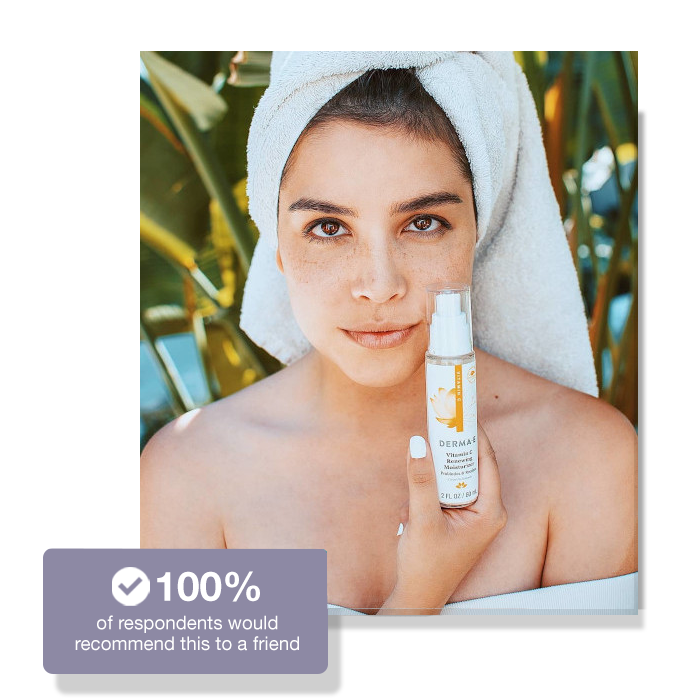 "Serum is great under sunscreen during the day, and under the moisturizer at night.
Light moisture for the warmer months."
- Darienne
Read more reviews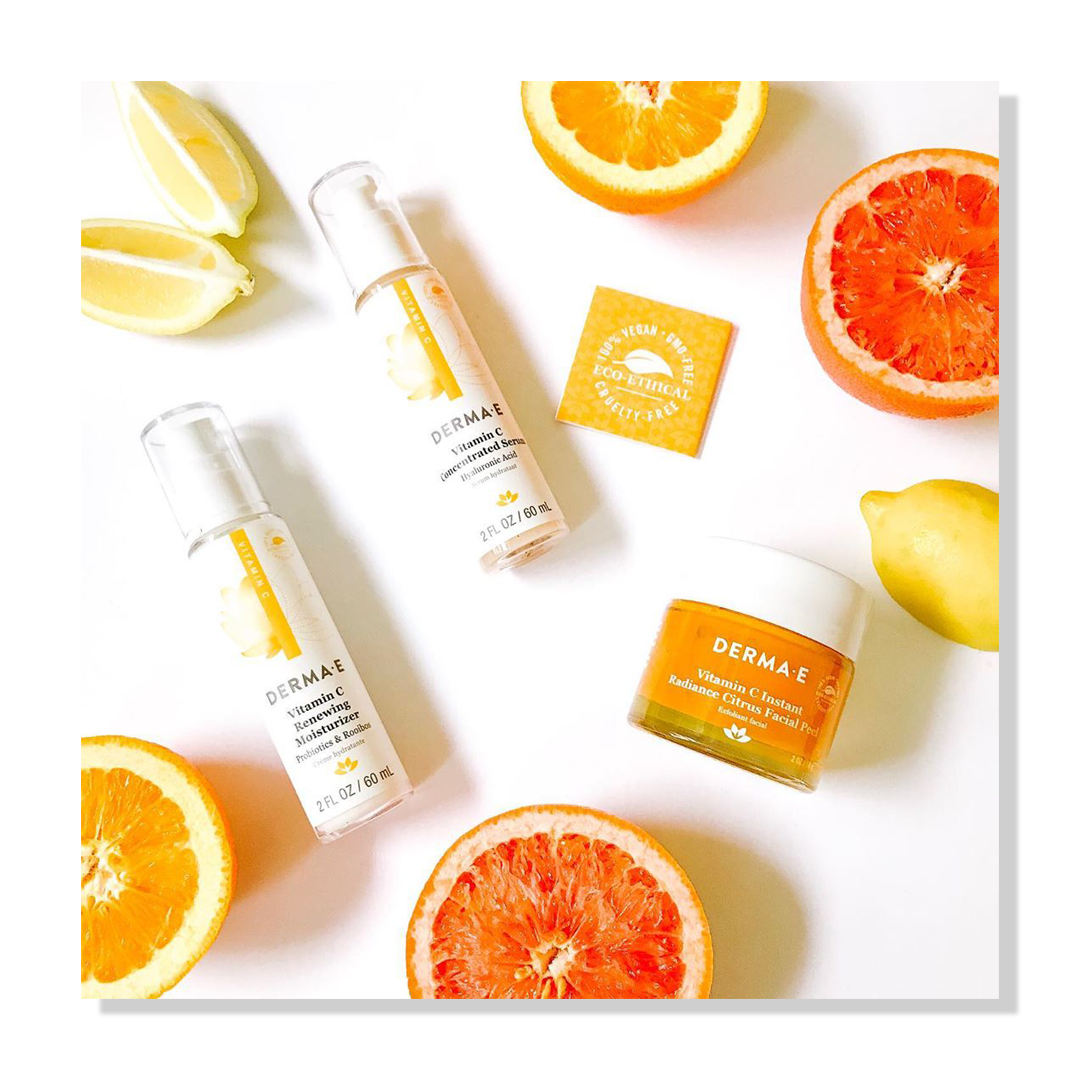 About DERMA E
DERMA E is proud to be a trusted brand when it comes to clean beauty. With our products, you never sacrifice effectiveness for safety—you get unparalleled results and the security that comes with using beauty products that are good for you. Good clean beauty products start with only the best ingredients. Look at any DERMA E product label and you will see it is not littered with harmful chemicals or mystery ingredients. We focus on superior natural ingredients that nurture and nourish your skin.